BMW Z4 Parts - OEM and Genuine
Showing 20 out of 4776 part(s) found in our catalog.
Narrow Down Your Search By...
Filter search results specific to your vehicle.
Keyword
Category
Select category below to view parts.
Can't Find What You Need?
Mon-Fri 8-4 MST/PST (Arizona Time)
Contact Us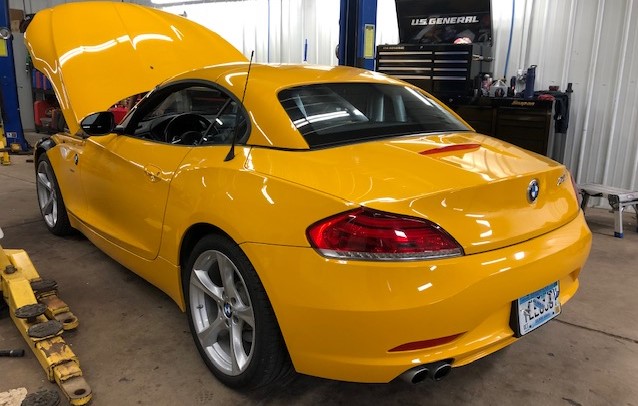 BMW discontinued the very popular Z3 model in 2002 to pave the way for their next generation of coupe, the BMW Z4. The Z4 roadster features an inline-six engine and rear-wheel drive. The first generation E85/E86 was originally designed by Anders Warming and featured a stiffer chassis which afforded drivers of the Z4 better handling when accelerating. Did you know the Z4 operates on the same platform as the re-released Toyota Supra? Of the 500,000 units of the Z4 produced to date, roughly half of their unit sales were in the United States. This is a critical fact for aftermarket BMW parts demand. The more demand there is in the US market, the better the competition for OEM manufacturers to produce and develop the parts originally available in only Genuine BMW.
While these brilliantly engineered roadsters are tremendously fun to drive, owners are woefully aware of their maintenance needs. The powerful 3.0L inline-six tends to encounter premature fuel injection failure. The index 11 fuel injectors available at AutohausAZ under pn # 13538648937, replace the older index 10 version. We also offer an ignition coil and spark plug pack for the Z4, 12138616153KIT6. So if you just scored a deal on a used Z4, why not freshen up the BMW cooling system parts here? We stock all of the BMW Z4 parts you'll need to bring your Z4 back to new shape. From Genuine BMW coolant, and Continental water pumps, to the OE ZF automatic transmission oil pan and filter kit we've got you covered. We stand behind every brand that we sell with a 3-year, no questions asked, warranty on every one of our BMW Z4 parts. Let us ship your Z4 parts today so you can get wrenching tomorrow.
Auto Parts We Offer for BMW Z4